SISTERS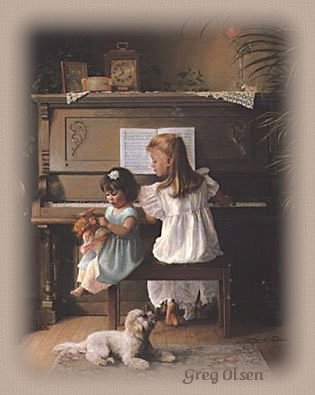 MY SISTER
My sister is my heart.
She opens doors to rooms
I never knew were there.
Breaks through walls
I don't recall building.
She lights my darkest corners
With the sparkle in her eyes.
My sister is my soul.
She inspires my wearied spirit
To fly on wings of angels.
But while I hold her hand
My feet never leave the ground.
She stills my deepest fears
With the wisdom of her song.
My sister is my past.
She writes my history;
In her eyes I recognize myself.
Memories only we can share.
She remembers, she forgives.
She accepts me as I am
With tender understanding.
My sister is my future;
She lives within my dreams.
She sees my undiscovered secrets;
Believes in me as I stumble.
She walks in step beside me,
Her love lighting my way.
My sister is my strength.
She hears the whispered prayers
That I cannot speak.
She helps me find my smile,
Freely giving hers away.
She catches my tears
In her gentle hands.
My sister is like no one else.
She's my most treasured friend.
Filling up the empty spaces;
Healing broken places.
She is my rock, my inspiration.
Though impossible to define,
In a word, she is...my sister.

A SPECIAL SISTER
A sister is one of the nicest things that can happen to anyone.
She is someone to laugh with and share with, to work with and join in the fun.
She is someone who helps in the rough times and knows when you need a warm smile.
She is someone who will quietly listen when you just want to talk for awhile.
A sister is dear to you always, for she is someone who is always
a part of all the favorite memories that you keep very close to your heart.

THERE IS NO FRIEND LIKE A SISTER
There's no better friend than a sister - There's no one more loyal and true.
Even when sisters are different - their likeness comes shining through!
Perhaps it's a family resemblance that strengthens the bond they share,
or maybe it's just that sisters live life with a similar flair!
A sister remembers your childhood -
She knows more than you will admit of times you were a
Little Miss Perfect - and times you gave others a fit!
She's seen you in some situations when silence just won't suffice -
and managed somehow to get by with those sisterly words
of advice!
And when some encouragement's needed -
a sister will always be there -
to listen . . .
to laugh . . .
or to lean on . . .
to comfort, or simply to care.
There's no one who's more in your corner -
and no one you're more grateful to.
There's no better friend than a sister -
and no better sister than you.

A SISTER IS
A sister is someone who's been where you've been-
who knows you and what you're about.
A sister is someone you know you can call if you
need to when something's just not working out.
A sister is someone who's more than just family-
her friendship is one of a kind; and the closeness
you've shared through life's laughter and tears is
the deepest that you'll ever find.
I'm lucky to have a sister like you-
I wouldn't trade our special relationship for
anything in the world.
Nothing is more comfortable or more reassuring
than knowing that you are always there.
You make life so enjoyable just by being yourself-
You've always been the best kind of sister.
I just thought I would say "THANKS".

SISTERS
For many years we've shared our lives-
One roof we once lived under.
Sometimes we laughed, sometimes we cried-
Through winter storms and thunder.
The younger years have faded fast-
We've gone our separate ways.
But through all time our friendship lasts-
Our bond in life remains.
As summer brings the happy times-
The autumn winds will whisper.
A closer friend I'll never find-
Than the one I call my Sister.